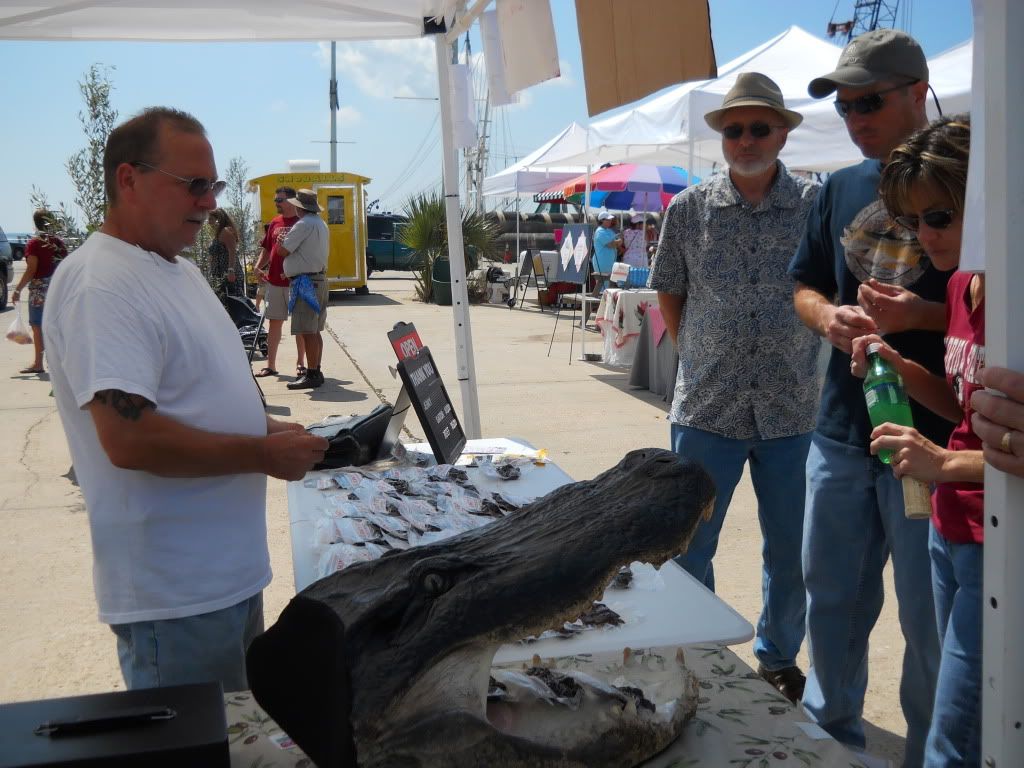 You can find John Spaulding at his table, Jerkin' It, on Saturdays at the St. Andrews Marina during the Waterfront Farmers' Market, at Friday Fest in Downtown Panama City or at Ms. Newby's during Thunder Beach. His spicy jerky flavors beg for a beer to wash them down with, but he's usually to busy for that.
"I'm kind of a one-man show," he said.
After Sallie Mae closed its Lynn Haven facility, Spaulding was spurred to turn his hobby of cooking into a full-time job. Spaulding had been making beef jerky in his home since 1994 using 20 dehydrators.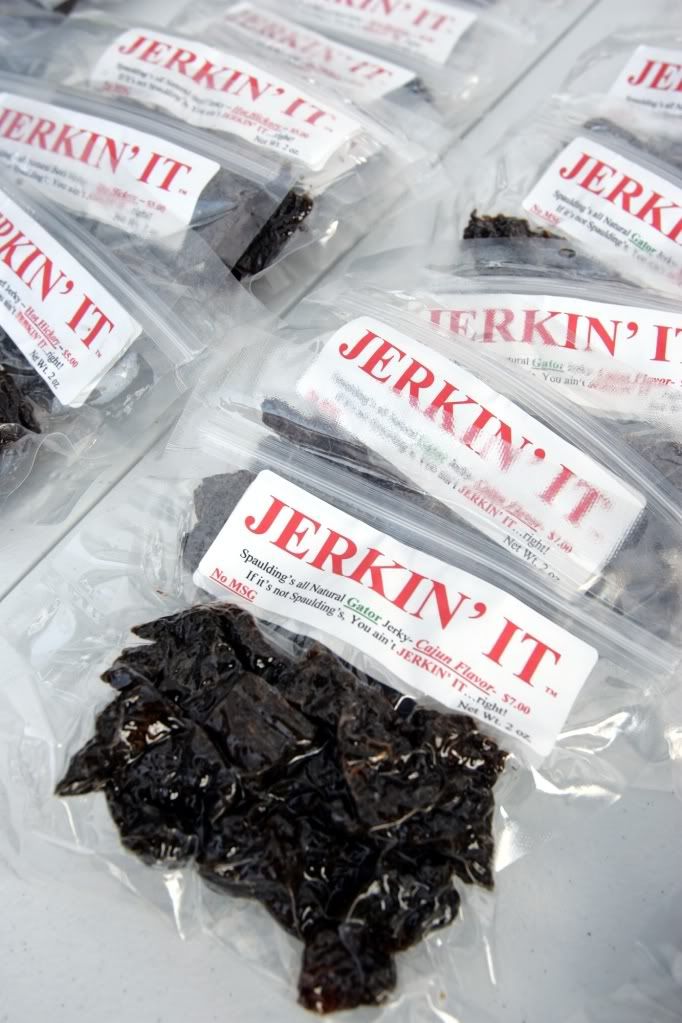 All Jerkin' It dried meat products are made with USDA approved meat supplied at Phillips Meat and Seafood, a GLD Company, on Transmitter Road in Panama City. The company lets him use a preparation area at the facility to process the jerky on site.
"It took me over one year and 800 pounds of beef to get to a recipe I like," Spaulding said. "Everything I make keeps over a year."
Spaulding begins by marinating his beef, alligator or turkey for up to three days in low-sodium soy, which has potassium sorbate that acts as a preservative. It is seasoned with spices such as thyme, oregano, basil and garlic cloves and put in a rotisserie oven to cook three hours before being weighed.
"It is not machine made and contains no MSG," he said. "I use vacuum sealing so added preservatives are not necessary."
All of his products come with a money-back guarantee, but he said he's never had a bag returned. The gator jerky, made from farm-raised alligators in Georgia, is $7 for a 2-ounce bag, while the beef jerky is $5 per bag.
"Gator Cajun jerky outsells others 10 to one," Spaulding said. "It's not hot, just all about flavor."
Alligator is the No. 1 ingredient, with a little cayenne, black pepper and paprika for spice. Spaulding also makes Hickory gator jerky.
"You might be able to tell it has more of an aquatic flavor," he said. "It's not disguised under the seasoning."
Creole is his latest gator flavor, with cumin being "the ultimate flavor changer."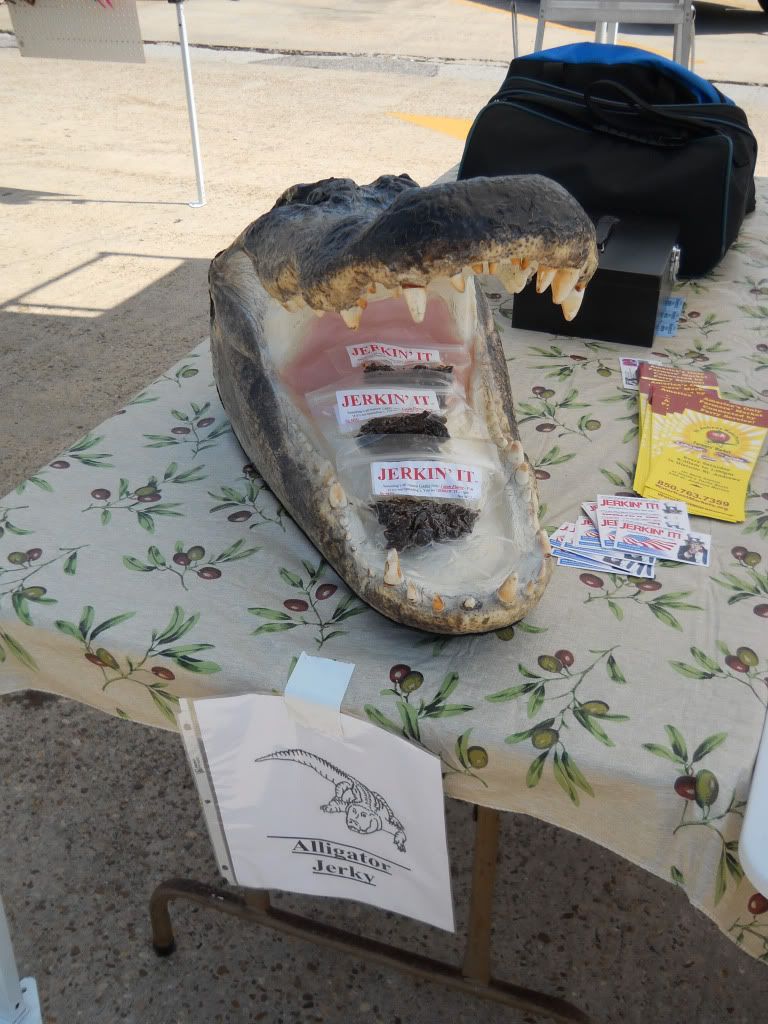 Stop by the Jerkin' It table by for free samples and get your picture taken inside the real alligator head, which measures 13.5 inches from the nostrils to the eyes.
Beef flavors are Mesquite, Hickory, Cajun, Hot Hickory and Hot Mesquite. The Mesquite, which tastes like barbecue, has visible pieces of garlic, while the more popular Hickory Flavor has liquid smoke for a stronger flavor. The Cajun has a little kick, while the Hot Hickory, Spaulding's favorite, with cayenne pepper definitely begs for a beverage to cool down with. The Hot Mesquite has a good, full flavor, to round out the sampling experience, which Spaulding is looking to further expand. He has plans to make emu, ostrich, venison, elk and buffalo jerky varieties.
Jerkin' It products are sold at Ms. Newby's, Newby's Too and The Back Door Lounge in Panama City Beach, as well as Petro Mart, 1736 St. Andrews Blvd., and Jenks Texaco Quick Fill, 207 W. 23rd St., in Panama City.